The Adams 5 Suction 5 Thrust 10 Vibration Automatic Male Masturbator is a versatile and innovative adult toy designed to provide personalized pleasure experiences for men and couples. With its combination of suction, thrusting, and vibration features, this sleek and black-colored device aims to deliver intense and satisfying sensations.
One of the standout features of the Adams Male Masturbator is its multi-functionality. Offering 5 suction modes, 5 thrusting modes, and 10 vibration patterns, users can explore a wide range of stimulation options tailored to their preferences. Whether you prefer gentle suctions, deep thrusts, or powerful vibrations, this device aims to cater to your desires.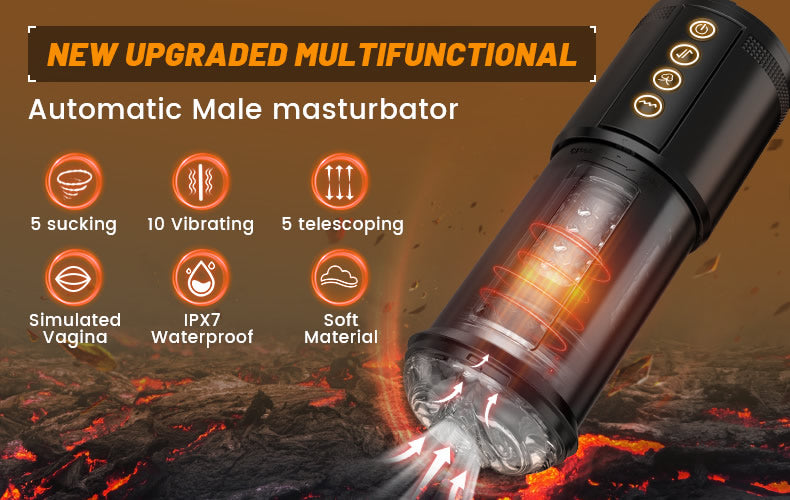 Constructed with high-quality materials, the Adams Male Masturbator features a thermoplastic elastomer (TPE) exterior and ABS components. The TPE material provides a soft and realistic feel, enhancing the overall sensory experience. The ABS parts ensure durability and longevity, making it a reliable companion for long-term use.
Measuring at 10.6*3.54 inches and weighing 1.94 pounds, this masturbator offers a comfortable grip and ergonomic design, allowing for easy handling during solo play or partner exploration. The insertable length of 3.8 inches provides ample depth for pleasurable experiences while maintaining a compact and travel-friendly size.
In terms of functionality, the Adams Male Masturbator is USB rechargeable, offering a convenient and eco-friendly power source. With a charging time of 240 minutes, users can quickly replenish the device's battery, providing up to 90 minutes of continuous playtime. This ensures that the device is ready for action whenever the mood strikes.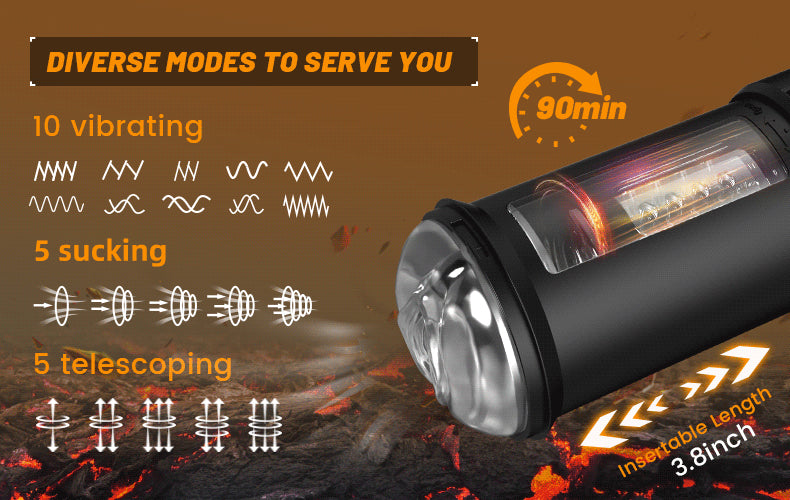 The IPX7 waterproof rating adds an extra layer of versatility to the Adams Male Masturbator, making it suitable for both wet and dry environments. Whether you prefer enjoying the sensations in the shower or incorporating it into bath time fun, this waterproof feature allows for effortless cleaning as well.
Upon testing the Adams Male Masturbator, we found the combination of suction, thrusting, and vibration to be highly pleasurable. The suction modes provide a unique sensation, simulating oral stimulation, while the thrusting and vibration functions offer deep and intense pleasure. The various modes and patterns can be easily controlled and adjusted, allowing users to customize their experience according to their desires.
Cleaning the device is a breeze, thanks to its detachable components. The inner sleeve can be easily removed for thorough cleaning and maintenance, ensuring hygiene and longevity of the product.
With its impressive performance and attractive price point of $83.99, the Adams 5 Suction 5 Thrust 10 Vibration Automatic Male Masturbator offers a satisfying and enjoyable experience for men and couples. Its multi-functionality, high-quality construction, and user-friendly design make it a worthy addition to any pleasure-seeking individual's collection.