FEATURES:
1、Impact P point: 9-vibration/9-stretch & lock sperm ring, continue to impact the prostate, increase delay.
2、APP control:
  (1)music mode:massager will vibrate with the rhythm and amplitude of the mobile phone;
  (2)Interactive mode:messages, voice, pictures, real-time video, break the distance.
3、Stimulate the rectum: the ring of the central axis, slide up and down, rub the rectum, extra crisp pleasure.
4、Protect the sphincter: extremely thin waist bottom to prevent the anus from enlarged.
5、Penile ring bump: with the vibration stimulation of the penile nerve, the pleasure is doubled.
6、quality assurance: low noise, remote control, waterproof, rechargeable, bring you more possibilities.


DESCRIPTION:
Hey bro! Ever tried a prostatic orgasm?Give it a bold try, Murphy will be a great sex buddy.
He has 9 levels of expansion and vibration for you to switch at will, and the penis ring with gear bumps will also vibrate at the same time, so that you can be congested and enlarged while the P point is constantly impacted and the orgasm is repeated, and the penis can be congested and enlarged, and it will not be weak for a long time! It is now, when the bumps continue to stimulate the nerves of the penis, coupled with the rapid friction of your hands, it will definitely make you ascend to the double orgasm of the prostate and the penis!
If your lover is far away, but you're hungry and thirsty, Murphy can help you out.
Open the mobile APP, click on the icon of the lover, the system will initiate an interactive invitation, music, text, pictures, voice can be chatted at will, and finally of course it is indispensable to open the video, and he envisions the scene of making love together, kissing, caressing, twitching, moaning, and finally harvesting pleasure together to reach the climax!


Specification:
Size:4.6* 6''
Insertable Length: 5.1''
Insertable diameter:1.38''
Function: 9 thrusting & 9 vibrations & APP
Waterproof: IPX7
Material: ABS+silicone
Weight: 0.6lb
Mute: <55db


Package:
Prostate massagerx1
Controllerx1
Chargerx1
Instructionx1
So insertable length is 5" then it thrust another 4" for a total of 9"?

The insertable length is 5.1 inches, the telescoping length is 0.4 inches, and the overall length is 6 inches.

What is the run time? What is the charging time?

The charging time is 2 hours, the run time is 50 minutes.
Customer Reviews
03/01/2023
leon h.

United States
LIKE IT
LIKE IT BUT BATTERY DONT LAST LONG ENOUGH
11/13/2022
William F.

United States
Good d
Took a min to well insert it kinda big and it could be a little more life like once it was in place though it felt better an better till it was over all a experience that was amazing
11/10/2022
Robert

Taiwan
YES AN APP
I have never been so excited to try out a new product! When it came home, I got it in the normal bag packaged but within the package came a black inconspicuous box. As I opened it, long behold the beautiful thruster looking prostate massager. I was too excited so I opened it .Decided to download the APP! YES AN APP, and then utilize a network connection. Invited my friend to test it and was it just so funny to see it on my desk vibrating on its "own". I don't want to get into too much detail but this thing is SO FUN! I plan to use it with many friends across the country!!!<3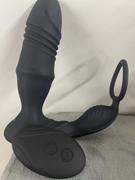 09/27/2022
Kwentin

China
In love
Pretty awesome product. It comes with a remote and a bag to store it in. Easy to set up and's ready to use within minutes. Extremely fun with the music mode and can control the vibration by shaking your phone. highly recommend
09/27/2022
Hamid

China
Discreet Packaging, great quality, and stunning feeling!
Also had a good start with very discreet packaging and the box it is in is high quality, comes with an instruction manual to help with all operations including the APP Usage. It also comes with a small cloth bag to put your toy in if you don't want to keep it in the box. The vibrations and thrusting work really well too and especially having the 3 options to control it the button the toy itself, the wireless remote, and even your phone!! Overall it is a very quality toy and I highly suggest giving it a try.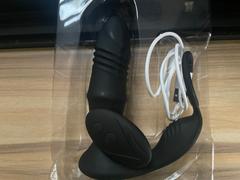 内容3
内容4