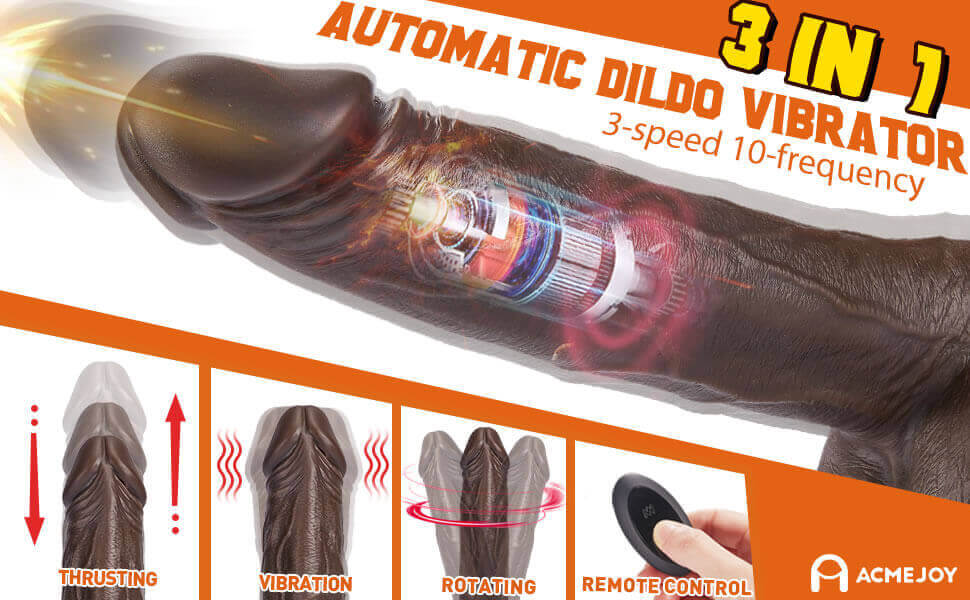 Features:
Dark brown appearance, date with a hunky sexy boyfriend.
The total length is 7.7 inches, enough to meet your needs.
With 3 functions - stretching, rotating, and vibrating, an overwhelming stimulation.
3 speeds and 9 frequencies, more captivating than a real penis.
Wireless remote control, make the gaming process more convenient.
With a suction cup base, get hands-free fun.
 N.B: The remote only works if the power to the dildo is turned on.
Description:
If you get this dark brown dildo, then you get a boyfriend with a different skin tone, it's always good to try something new. At 8.7'' long and 1.5'' thick, there's absolutely no need to worry about that this big guy won't be able to satisfy you. All you need is some lube, the thick shaft will fill you up, the raised veins increase stimulation during your every movement. Surprisingly, it has 3 functions: telescoping, rotating and vibrating, which is impossible for many other dildos. With 3 speeds and 9 frequencies, it will churn in your sweet hole, constantly rubbing, ramming and stimulating every inch of your inner walls when it's powered on. It is an overwhelming pleasure, Isn't it more appealing than a real cock? When it's inside you, you can change the speed and frequency without bothering to interrupt the pleasure and pull it out, and the remote control that comes with it makes your play even simpler. The suction cup base allows you to attach the toy to a smooth surface for hands-free fun and to explore different postures. So you can make a better use of it than just hold it.
Specification:
Material: ABS+silicone
Size: 1.5*6.3*8.7''
Weight: 0.9lb
Package included:
1*dildo
1*remote control
1*charging cable
Customer Reviews
01/13/2022
Robert E.

United States
Robert
All I can say is.....BRILLIANT!
12/28/2021
Wendy

United States
Bulging and Big
I ordered this 8.7 inch with some high hopes of moving from a starter toy to this (purchased at same time), but when this arrive I couldn't resist diving straight in! I used water-based lube and started in the shower using the suction cup on the wall. As I am not usually a taker it took some time to get in but once it was it was so fantastic. The whole product gets 10/10 from me, a first time user!
12/22/2021
More

United States
best
Bought this for my roommate, she said it was pretty awesome.
Multipull Orgasms! I bought two of them. One for inside My Ass and one I strap to My Penis. My first Orgasm usually happens within a minute and 2 to 3 more in about 15 minutes. I never Came so hard and so much before I bought those 2 BBC"s. One of the best investments I ever made. I highly recommend Them.
WONDERFUL
11/24/2021
Liam

United States
Perfect
It's material and function are perfect and very satisfying!
内容3
内容4