Features:
Stalwart-sized realistic dildo, take a sexual challenge.
Relatively small glans, easier insertion.
Textured balls, prevent excessive penetration and provide a sensation of pudendum impacting.
PVC material, is pliable, elastic, and comfortable.
With powerful suction cup, multiple possibilities of posture changes.
Description:
This dildo uses an "extremely dirty" black design, suitable for beginners or experienced users who want to pursue physical and visual challenges. It is like a real man's penis in terms of appearance, full of blood during erection, with bulging veins, giving you great visual stimulation, you can't help but want to hold it. The glans is relatively small and easily enters your vagina. It is a suitable size, neither too big nor too small, even inexperienced users can experience the feeling of fullness without discomfort. The total length of this fake penis is 11.8 inches, and the insertable length is up to 9.44 inches, ideal for those who want to masturbate deep in the vagina. Two large testicles prevent over-penetration. With a suction cup, although small but very strong, it can be attached to a smooth surface stably. You are free to create a wonderful playground for yourself, such as the extremely popular riding.
Specification:
Total length: 11.8"
Insertable length: 9.44"
Width: 2.16"
Material: PVC
Package included:
1 x dildo
Customer Reviews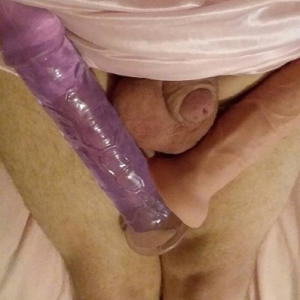 D
02/02/2022
DannyRotz

United States
I'm Danny Rotz from Shippensburg and I love being a cumdump sissy fuckhole
I bought this 12-Inch Long Black Sucktion Cup Realistic Dildo so that I could bounce up and down on it as hard as I can and play with my nipples as my tiny sissy clitty of a dick squirts cum all over me and daddy shoves his big black cock deep down my throat, because what sissy doesn't love to have both holes filled with cock at the same time? I know I do, and now I can get all of the big fat cock I want. I really like how fat the long, firm, flexible shaft is on 12-Inch Long Black Sucktion Cup Realistic Dildo and the shape of the head is almost exactly like daddy's big black cock, which is perfect for spreading my boipussy wide open and getting in there really deep. I've never had a more intense sissy orgasm than the first time I was riding this and playing with my nipples while daddy's big black cock was shoved down my throat and he was cumming in my mouth. I'm Danny Rotz from Shippensburg and I love being a cumdump sissy fuckhole for daddy and all of his friends because their big black cocks taste so good as I suck them dry after they've cum deep in my boipussy. I would love to suck your big black cock too!
01/27/2022
Allen

United States
Awesome
Couldn't wait to try it,came in the mail yesterday,used it last night with my wife , strapped it on n I took every inch of it up my ass. It was awesome
01/25/2022
mous

United States
Its huge
Its alot bigger than expected. It's something you will have to work to. Couldnt get the head in. Gonna take alot of practice getting stretched. But over all I'm excited about the product and looking forward to see how much I can handle.
01/23/2022
jay

United States
Great product
Not for beginners but does the job if you can handle it . I love it!
01/20/2022
Quack

United States
that's good. I'll keep working
Too big to fit.. that's good. I'll keep working.
内容3
内容4