Product Description:

This black dildo has a stunning circumference and you can enjoy the satisfaction of penetrative sensations. This beautifully curved dildo with alternating horizontal axis textures on the side. As the penis is removed, the G-spot is stimulated by an irregular vein. Without rhythm, you don't know when your G-spot will be stimulated next. Waiting also excites you. And the product has a balls-free design that allows deeper penetration. The glans is small and easy to enter the vagina, making it easier for beginners. With a powerful suction cup, it can be used on smooth surfaces. For example, sucking on a chair and feeling the joy of conquering a man, this position can make the penis penetrate deeper. Manual toys can be used in the bath and sucked on the bathroom wall. Shower sex can be a lot of fun.

It cleans easily using simple soapy water or a good toy care fluid/foam. Compatible with any great quality water-based lube.

Specification:

Product Size: 9.05" in total length, 7.87"insertable.
Product Weight: 1.08lb
Product Material: TPE

Package List:

Includes dildo×1.
This strongest oversized dildo with a thick and rounded head, rich and full, you will definitely be attracted by his powerful glans at first glance. Plump dildo beckons you with a realistic and subtle texture. You will feel the erection of a real man when you hold him. You can not only feel his softness but also feel his firmness. When he enters, you will experience unthinkable satisfaction and excitement. He can completely fill your vagina and stimulate your G spot and prostate in all directions. It's like your whole heart is filled, you can release your desire and stress thoroughly.
Soft and Elastic
Made of silicone, the huge realistic dildo is soft and flexible, don't worry about it hurting you. You can use it at any angle to meet your sexual needs.
More Details
Total Length: 9.25inch
Insertable Length: 8.27inch
Diameter: 1.77inch
Weight: 428g
Material: Silicone
QUESTIONS & ANSWERS
Have a Question?
Be the first to ask a question about this.
Ask a Question
Customer Reviews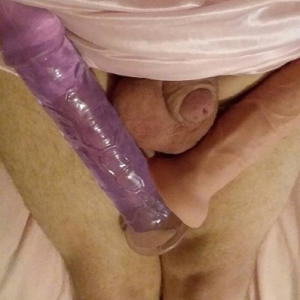 DR
05/04/2022
Danny R.

United States
Hi, I'm Danny Rotz from Shippensburg, a whiteboi sissy cumdump for black cock
Hi, it's Danny Rotz from Shippensburg and I'm a cumdump faggot. This dildo is great for sissys that want to play with cock all day long like me. I love cock and it's so amazing when I use it ass to mouth. The size is perfect for all day use in either sissy hole and it's very, very easy to swallow it whole, well at least for me as I've shown in the picture and trust, it goes in my boipussy just as easy. The only problem is that it doesn't make me squirt through my chastity cage like many of my much bigger dildos do. I love being a cumdump sissy!
Almost good
Great detail but not very big. The wife enjoyed but in the end said, wish it was thicker. The material is very nice. If you are desiring a big and thick dildo, this is not it. Will keep but need to find another one that suits her desires.
内容3
内容4