The cock ring is usually placed at the base of the penis to help men achieve a better erection and longer-lasting orgasm by slowing down blood flow in the penis. It's typically made of silicone, rubber, leather or metal, and comes in a wide variety of shapes, sizes, and functions. Well, it can be confusing at first glance. But trust us, once you have found the right ring for you, you will find that you benefit a great deal.
How to Find the Perfect Fit?
Most cock rings are made of stretchy material or are designed to be adjustable, but you still need to check if they match your member. A first-timer's best bet is a kit that's come in different sizes. It usually offers several size possibilities to experiment with and can be used in different parts of the penis- the balls, shaft, and head- at the same time.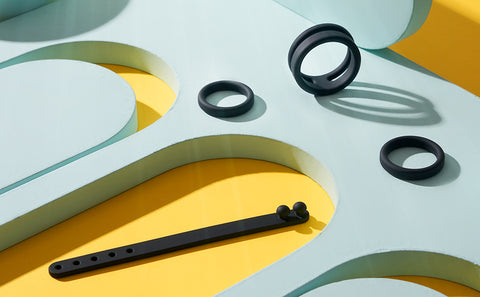 AcmeJoy cock ring kit that designed to accommodate most sizes
Want more thrills?
A basic cock ring doesn't surprise you anymore? Try a vibrating one! When it snugly fits around your private part, every movement of yours will drive wonderful buzz pleasure. Your perineum and testicles can also be cared for! With the effort of vibration, you will uncontrollably want to ejaculate immediately, but the rings will not let you do that. They want you to spend more time enjoying the sweet sex, and you did!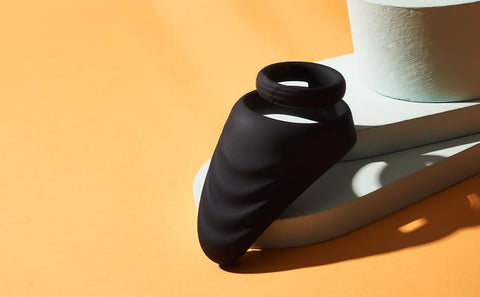 Enjoy a stronger erection and extra massage for male perineum
Want to spicy your intimate play up?
Cock rings are all well and good, but how about a cock ring that also does double duty as a vibrator for her? This kind of cock ring is equipped with a vibrating motor, allowing you both to feel the intense sensations of the dual vibrations. She can enjoy buzz pleasures with every thrust, while the rings wrapping around the base of your member will help keep you fully erect the whole time!
Two powerful motors create thrilling stimulation on his head and her clit in tandem
Bondage pleasures? Got it!
Dress the dick up with a steel cage, a rod shoved down his urethra, bury the equipped plug deep into his asshole. What a pathetic slave only owned by you! A metal cock cage is ideal for keeping him under your total control regardless of cock, anus and even piss-hole. And it's receptive to changes in temperature, suitable for temperature plays, too!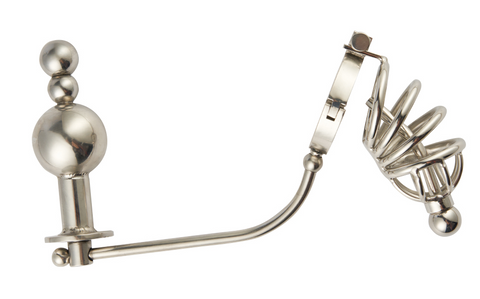 AcmeJoy cock cage with piss-hole rod and anal plug