6-Frequency Water Spa 6-Mode Sucking Penis Enlargement Pump
Buyer Protection
100% Discreet Shipping & Safe & Secure Shopping Guarantee
Full Refund If you don't receive your order
Full or Partial Refund , If the item is not as described
We offer hassle free returns on all defective products sent out.
Features:
An effective tool for bigger, harder erections as well as a way to explore size and firmness.
Clear blue cylinder with precise measurements, observable dick enhancement.
6-frequency water spa, feel free to explore the world of refreshing water spa.
6-mode powerful sucking, get your dick sucked and boosted with or without water.
Double entrance sealing circle, watertight and airtight.
Description:
It's a fab penis pump alternative to the traditional one, giving you and your tool a new, unique pleasure sensation and dick enhancement with water as the main medium!
Through its clear ABS cylinder, you are allowed to observe how your tool gets soothed, swelled, and fulfilled by the automatic vacuum sucking. Training your rod with 6 powerful sucking modes periodic will make you realize how strong your dick can be!
Moreover, you can harness the power of water for your personal pleasure. Powered by the strong motor, the water turbine placed at the bottom of the chamber runs in any of the 6 modes to activate the water injected into the cylinder. Also, the intensity of water-churning changes along with the mode. Ranges from gentle to wild, which will send you into orgasmic ecstasy!
It's undeniable that using a penis pump is an effective method of easing the symptoms of ED as well as a way to explore size and firmness. Wanna take control of your sex life? Pump up your manhood to it for increased performance, better erections, and maximum pleasure!!
N.B. When the sucking mode is activated (with water in the cylinder), the operating handle must be at the top, and the water injection volume must be kept below the water injection line, and the turbine should not be submerged by water. When in the water spa mode, the cylinder can be filled up with water, and it is forbidden to switch from the water spa mode to the sucking mode at this time.
Specification:
Product size: 12 x 2.8"
Weight: 1.54lb
Material: ABS+TPE
Package included:
1 x penis pump
1 x charging cable
1 x manual
3 x donut
1 x meaty stroker-style sleeve(optional)
1 x auxiliary rod(optional)
Customer Reviews
09/08/2021
Keith

United States
Get huge
What a great tool to make you bigger. Gained nearly 2 inches when using it as a pump. Made me feel really strong and thick and hard. The whirlpool will definitely give you a great orgasm. The pump with lots of lube feels like a really tight slippery hole. Definitely using this to get pumped up before I go out, Or have some fun on someone's coming over.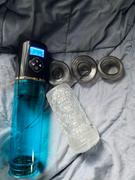 09/08/2021
josue

United States
Added to my PE routine
I got this mainly for the pump aspect. I added it to my regular PE routine as I was wanting to add pumping to my regiment. First time ever using one and I can see why people like them so much! This for sure does the job very well. The sleeve works just like you think it would lol. As for the water features they feel pretty nice, but I mainly use the water features as a warm up for my Jelqs and stretches. I'm very happy with the product and it has done right by me. I can feel my PE game is gonna improve due to simplyhow much more convenient this makes a few aspects of it.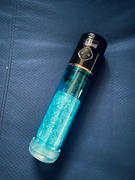 09/02/2021
Rogers

Australia
Very fun and dynamic device!
Trying this product was exciting! The pump works great with a variety of settings, very easy to adjust for maximum benefit. The sheath feels great and I love the way it feels with the pump. The whole device is easy to assemble and clean. The water is also interesting but definitely play with it in a water friendly environment. Very good value overall!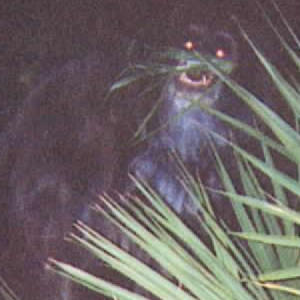 BC
08/10/2021
Brownfield C.
Good value for money!
at first, I thought this pump is kinda expensive compared to other pumps I've got, but after I received and tried it, I'd say the price is fair enough for its unique function,especially the water spa,I really enjoy it
08/04/2021
Kareem

Hong Kong SAR China
A GIFT FOR MY FIANCE
THIS IS AWESOME! My fiancé loved it! Great pumping power, and feels fantastic! Totally worth it and the price is definitely reasonable. Good quality, boxing was neat and put together. The toy is pretty self explanatory. Also has a magnetic charging port which is awesome!