Features:
Vacuum physics makes your penis bigger and stronger.
Transparent cylinder with scales visualizes the improvement of penile erection.
3 automatic sucking frequencies give you the multiple pleasures of deep throat.
Tight hourglass channel creates a delightful wrapping sensation of squeezing.
Thick inner with dense friction particles fully wake and stimulate your penis.
?
Description:
You want to see your little brother grows as a beast, right? And you are tired of your sensitive glans and early ejaculation, right? You'll be astounded by this powerful, transparent trainer that is dressed in the newest green color. Thickened channel with dense particles maximizes the pressure and friction of the glans, causing it to repeatedly fill up and expand, which will definitely leave you shivering and gasping for breath! Imagine your big and chunky penis sticking into her tight little butt or plump labia. Wow, she will definitely fall to her knees and beg for your mercy!
?
Specifications:
Material: TPE, ABS
Color: Green
Size: 12.59*3.54in
Weight: 1.64lb
Insertable Length:?7.09in
Mute: £¼60db
?
Package Included:
1*Penis Pump
1*Charging Cable
1*Manual
È possibile il pagamento alla consegna

Siamo spiacenti, questo prodotto non è disponibile, se effettui un ordine, aspettati di riceverlo il 12 marzo.
Customer Reviews
02/02/2023
Steve L.

United States
AIDEN 3 SUCKING PIMP
I NEVER RECEIVED IT!!! STILL WAITING FOR IT!!
This pump is absolutely great.
This green color appeals to me greatly, and it looks fantastic on the table. Nice design, sleeve makes it much more comfortable than some of the others we've tried. And I love the pump too!! I have been having problems with ED and this overcomes the failures of my body and allows me to function very well indeed. In fact the pump has increased my length and girth and I love it as does my partner.WOW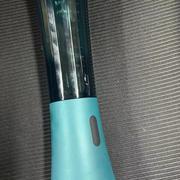 11/21/2022
Mike W.

Taiwan
Powerful Suction
It really works. My dick was firmly sucked by this enlarger, I love the thrill of vacuuming, my penis is getting bigger and bigger, it is really excited and thrilled to witness such a fulfilling process. Very much recommend this to anyone who is considering something like this.
11/21/2022
David.J

Taiwan
effective pumps
To be honest, this is the first time I use a pump, and I am very nervous. Fortunately, this product did not disappoint me, and even made me very satisfied! After a few tries, I can say that I definitely saw positive changes, I literally felt my penis revived and more alive! This is thanks to its strong suction, which blew my mind the first day I used it. And his appearance is also very fashionable, with a unique hourglass shape, it is a very satisfying shopping.
内容3
内容4