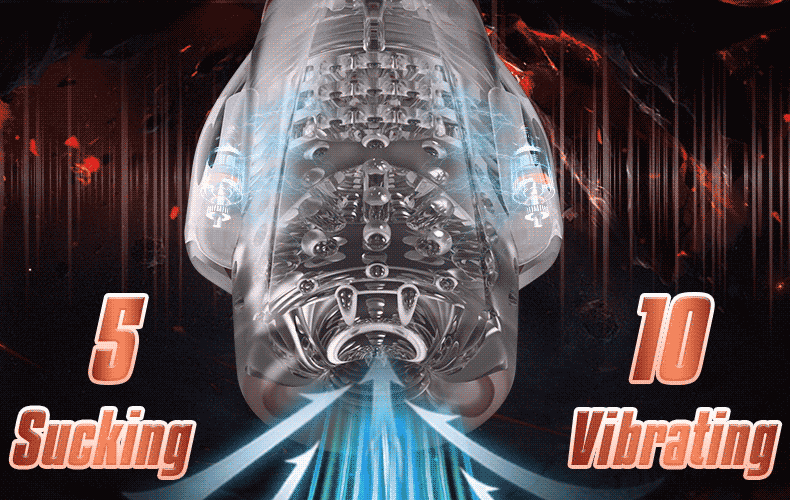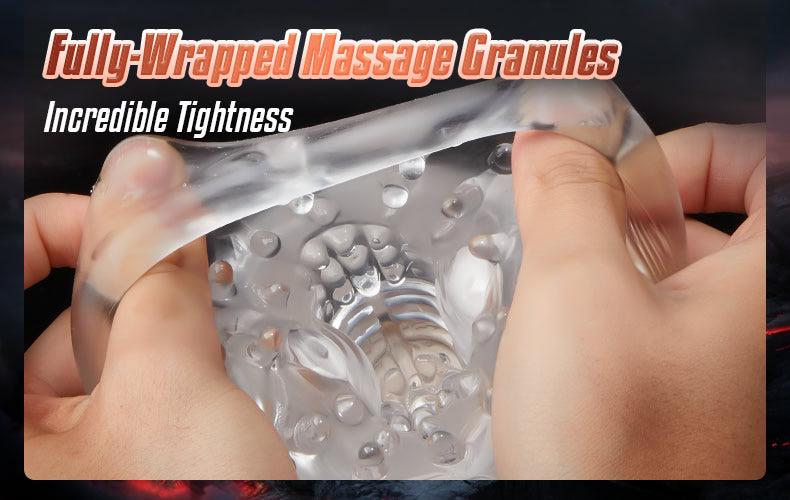 Features:
Dual motor male masturbator for more passionate penile pleasure.
Explore 5 sucking patterns and 10 vibrations for different sensations.
Transparent cup to satisfy your voyeuristic desires.
3D silicone channel for a tighter wrap.
USB magnetic charging with high capacity and fast charging.
IPX6 waterproof means you can take it anywhere.
Description:
Rocket features a high quality dual motor inside, with intense electrical vibrations that drive your parts almost crazy and rotate to drive you to absolute orgasm. The portable and handheld design makes it easy to adjust the mode. Delight yourself with very simple operation for double stimulation. The masturbation cup looks like a woman's mouth and can completely swallow your tail, performing oral sex as if you were sucked into a tornado! The friction drives you crazy with the internal 3D particles and projection. Made of premium material which is suitable for a variety of different widths. It lies very well in the hand and is not too heavy, Enjoy it!
Specification:
Product Name: Rocket Sucking & Vibrating Transparent Dual Motor Male Masturbation Cup
Material: Silicone+ABS+TPE
Waterproof: IPX6
Features: Dual motors, 5 Sucking, 10 Vibration
Type: Vagina
Function: 5 Sucking & 10 Vibration
Frequency: 5 Sucking & 10 Vibration
Charging Time: 180 mins
Run Time: 80 mins
Power Type: USB magnetic charging
Size: 8.07*2.16"
Insertable Length: 4.13"
Weight: 440g
Color: White
Package included:
1*masturbation cup
1*charging cable
1*manual
Is this device loud when in use?

No, this product is low-noise.

What width or girth will this accommodate? I need about 2.5 + inches in width

Accommodating a size of 4.13*3.54 inches, you are the right size to use this product.
Customer Reviews
03/02/2023
Albert v.

United States
I am disappointment in the product, it does not live up to how it was promoted. I would love to return it. Please instruct me on how to return the item.
02/13/2023
Nathan L.

United States
This thing is a perfect toy to have for those solo sessions. The insides of the toy have different kinds of nips that feel great on your member when it is spinning. The toy has varying speeds from a slow spin to a high-spinning fan. If you place it just right you can get a suction between your body and the toy, and that can make a great feeling when it is spinning. I personally like the high speed the toy can get and then the up and down motion really gets me there to release. You should pick this up for the next solo session you will not be disappointed.
02/13/2023
Ashlee V.

United States
Nice!
This toy is a lot of fun. It gives you the most insane sensations while it rotates. Best orgasms ever. Highly recommend.
02/08/2023
Drew G.

China
Wow, what a treat!
I really had no idea anything like this existed. Its about time company's started making more adventurous products for men. This is the true definition of a spinner. A completely different sensation then I have ever experienced. This is my new go to device!
02/08/2023
lee

China
Buy it, you won't regret it
This toy feels amazing. Got it for my birthday!!!
内容3
内容4