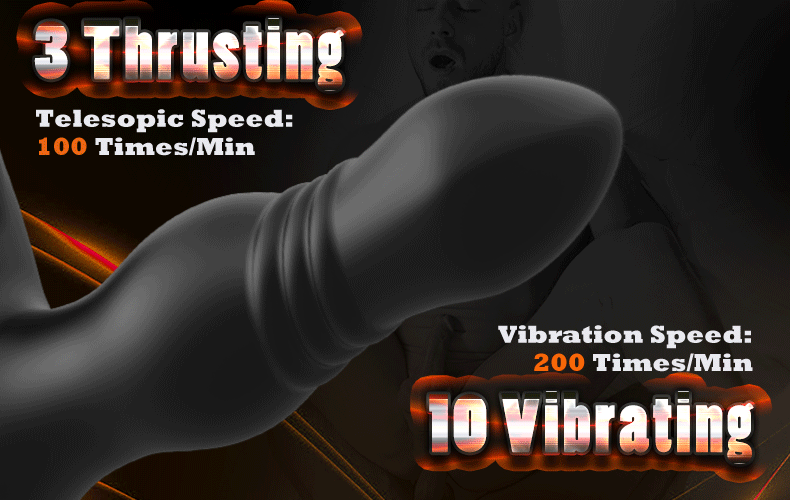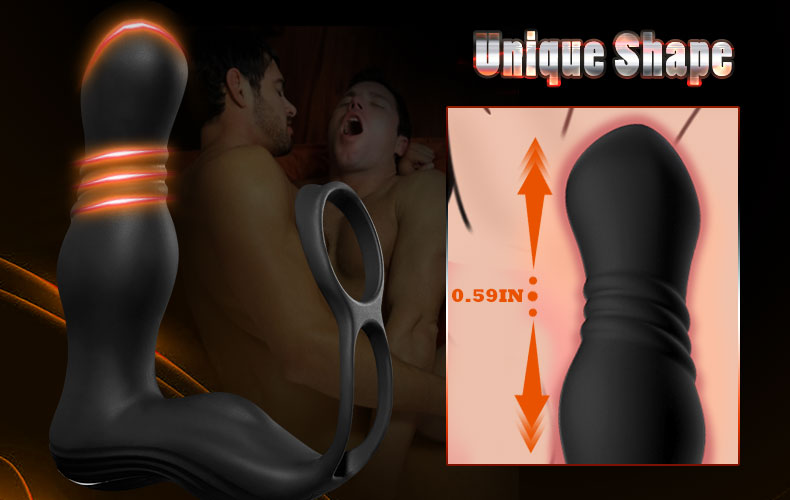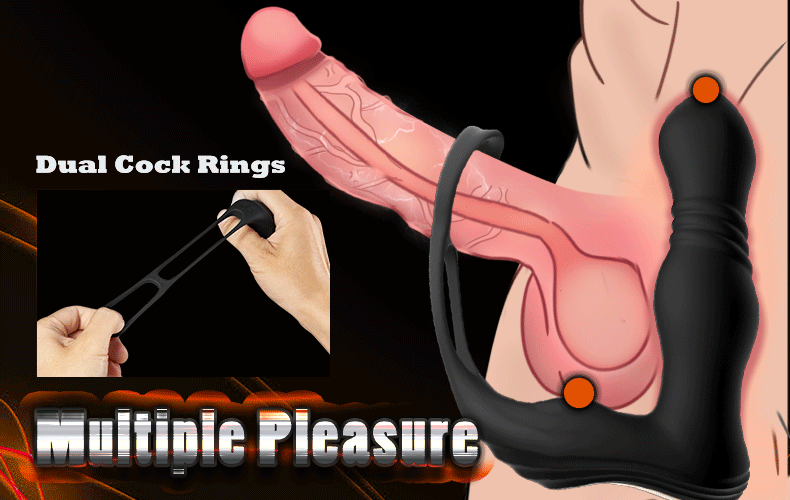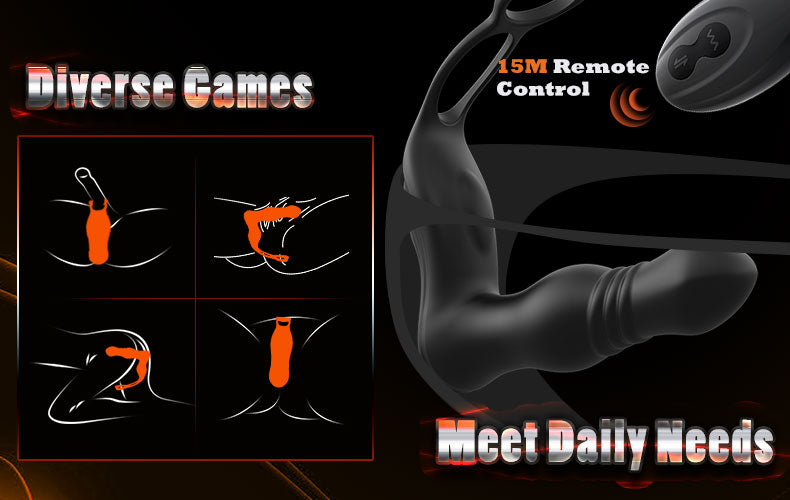 Features:
3-in-1 versatile toy,covers the prostate, testicles, and penis,brings overwhelming mixed orgasm.
Combination of 3-thrusting & 10-vibrating to deliver continuous and precise anal stimulation.
Telescopic Length of 0.59" for deeper prostate pleasure.
Dual cock rings snug fit your testicles and penis, make the vibrator stay in place, enhance erection and delay ejaculation.
The remote control allows you to hand control over to your lover.

Description:
Can anal orgasms be intense?
Yeah, they can! Prostate orgasms are intense enough to send waves of orgasmic pleasure from head to toe.

Guys, want to experience this thrill? Then you need THOR!
3 thrusting motions combine 10 vibration frequencies to provide precise prostate stimulation and send you over the edge in seconds. 4.64" insertable length and 4.64" diameter plus the telescopic length of 0.59", thrust forth and back strongly to give you ecstatic sex experiences.

THOR features a flexible thumb head and ball loops on the shaft for precise P-spot & G spot massage, a raised base for perineum & anus stimulation, and a dual cock ring for enhancing erection & delay ejaculation. Multiple thrills and pleasures waiting for you to explore!
Specification:
Size:5.9 * 6.1 * 1.5in
Insertable Length: 4.65 in
Telescopic distance:0.59in
Function: 3 thrusting & 10 vibrations
Waterproof: IPX6
Material: ABS+silicone
Gtin: 6974280909671
Package included:
Prostate massagerx1
Controllerx1
Chargerx1
Instructionsx1
What is the charging time? What is the run time?

Charging Time: 85mins. Run Time:55mins.
Customer Reviews
09/27/2022
Tam

China
Perfect size. Perfect extra features
This is one of my newest favorite anal/prostate massage toy. Perfectly size. It's actually fairly deep and the added vibration and thrusting motion is awesome! Plus, the added loops helps things stay in place when adding motion. I'll really be trying this while performing oral and having something teasing me. Also works great when used in tandem with a hands-free toy!
09/27/2022
Obaida

United States
Really Nice Options, Remote - Feels Premium the Whole Way
Arrived in elegant, discreet packaging. Remote is a really nice touch. I don't know where I would classify this. I its definitely above the level of the "beginner." Have included American measurements in inches where I could to show you what you are in for. - You can operate the vibration / thrusting modes independently, just make sure to turn them *both* on from the handle. Video shows different operation combinations and gives you an idea of the amount of power. It has it. There is no reason to spend more on something similar. This is the one you want to get you there.
08/28/2022
Jacob

China
It was great the first time I used it.
After finding the right position when plugged in, the feeling can be heavenly, the frequency can also be adjusted, the power is very strong, the top to the innermost is very comfortable, stimulating, and the function of locking sperm can continue to feel the feeling of orgasm, the feeling of blocking is gushing out, and a lot of prostatic fluid flows.
内容3
内容4